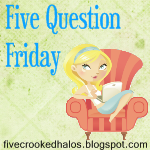 I haven't done a Five Question Friday in a long time, so I figure I would take advantage of a slow Friday and do this week's 5QF.  To link up, fill out your answers, post the above link in your blog post, then add your name to the blog hop at My Little Life!
1. If your husband had the BIG V and you got pregnant what would your first reaction be? For the dudes, what would your first reaction be if your wife told you she was pregnant after the Big V?
Oh goodness.  Since I am currently almost 32 weeks into a very surprise pregnancy, I would probably be very shocked.  Then I would think that surely this baby has quite a purpose for being put on this Earth.  I will definitely be taking more precautions after this baby is born, but past that, if God wants to bless us with another child then I say okay.  My husband would probably think he is such a stud that no surgery can keep his soldiers from marching on.  🙂
2. Best memory about this summer so far.
We have had a fairly nondescript summer, which is the way I like things lately.  I had enough excitement and upheaval in 2010 that I am embracing the slow pace of the summer of 2011.  I'd say the best memory is the July 4th weekend.  We got to see a lot of family and friends and spend time on the lake with the Mister's family.  It was so relaxing and fun.  I could definitely use more weekends like that.
3. How often do you change your sheets? Your kids sheets?
Usually once a week.  If we have a busy weekend I'm okay with going every two weeks.
4. Having just gone through TSA, would you rather have a full-body scan or a pat-down?
I would rather have neither.  If I HAD to fly and I was randomly chosen, I would probably say the pat down.  I'd rather the TSA not have images of my nekky girly parts.
5. Since it is fair time…what's your favorite fair (county or state) memory?
I have never been to a county or state fair.  I know, right?  Born and raised in Alabama and never been to a fair.  The state fair in Alabama was in a rather sketchy part of town, so my parents didn't want to take us and didn't allow me to ever go with my friends when I was a teenager.  I can't say I blame them now, but I didn't like it much at the time.
Now, you fill out your answers and link up!
–
Like what you see? Subscribe to my RSS feed. And don't forget to follow me on Twitter and like The House of Burks on Facebook for the latest updates!
–