You ever have one of those days?  One of those days where nothing goes right?  A day you just want to forget about, go back to bed, and try again?  I have those days quite frequently.  The best I can do is just call a mulligan at the end of the day and resolve to wake up the next morning and try to make it better.
Last Thursday was one of those days.
I couldn't get to sleep Wednesday night, then the baby woke up so I had to mess with him.  Because of my lack of sleep that night, I slept through my alarm and the many snoozes.  So of course that morning we were all rushing around to get ready for the day.  There was a shower to take and breakfast to prepare and lunches to pack and tiny bodies that needed to be changed and dressed.  My hair is long so it takes a bit of time to dry and even longer if I decide to curl it or straighten it.  I had also been lazy the night before and didn't pack my breastpump for the next day, telling myself that I would just do it in the morning.  So I hurriedly packed up bottles, cold pack, flanges, and tubes into the bag and off to work I went.
When I got to work I went to unpack my pump like I do every morning, like I have every morning for the past six months.  I opened the little cooler to put the bottles in the bag to take to my little pumping room.
And realized that I forgot to pack the bottle lids.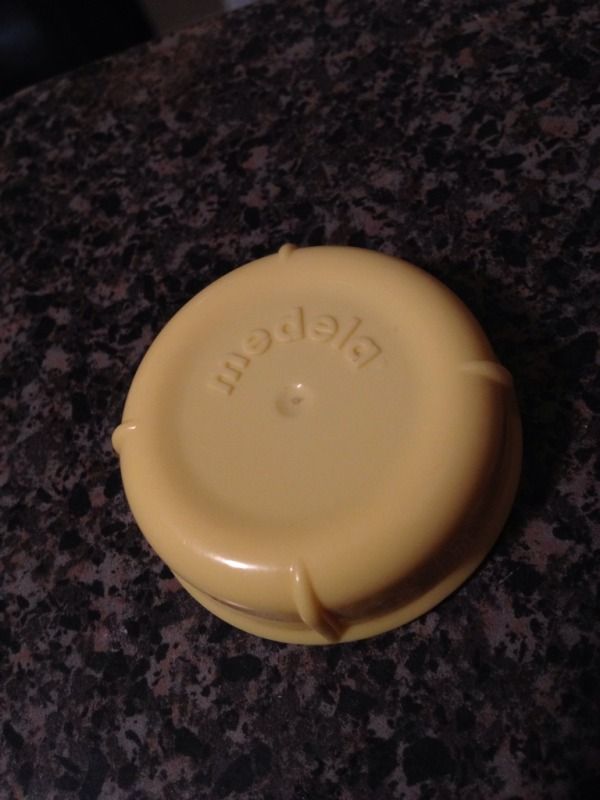 For the first time in my combined 18 months of pumping at work, I had forgotten the six small but VITAL bottle lids.  Isn't it funny how something so small can screw something up so badly?  There was no way I could go back home and get them.  It would waste nearly two hours of my work day.  There was no way I could leave open bottles of breastmilk in the office refrigerator.  I had NO idea what to do.  So I started looking around the kitchen for some sort of container with a lid that I might be able to store the day's output in long enough to get it home.  All we had were coffee mugs, drink glasses, and plates and bowls.
And an empty pickle jar.  With a lid.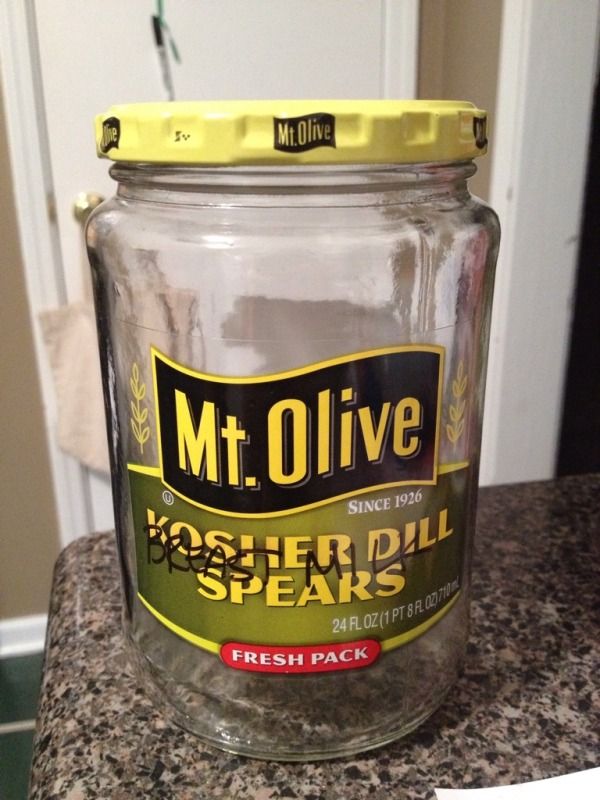 Hooray!  Someone had saved the pickle jar from our last lunch meeting!  The milk was saved!
I did what I could to make sure that people knew that this was not some kind of fancy-schmancy homemade coffee creamer or anything like that.  We have a fair amount of Pinterest users in my office, and I know for a fact that several of us have pinned some recipes for homemade creamer.  I was very excited to have found my saving grace.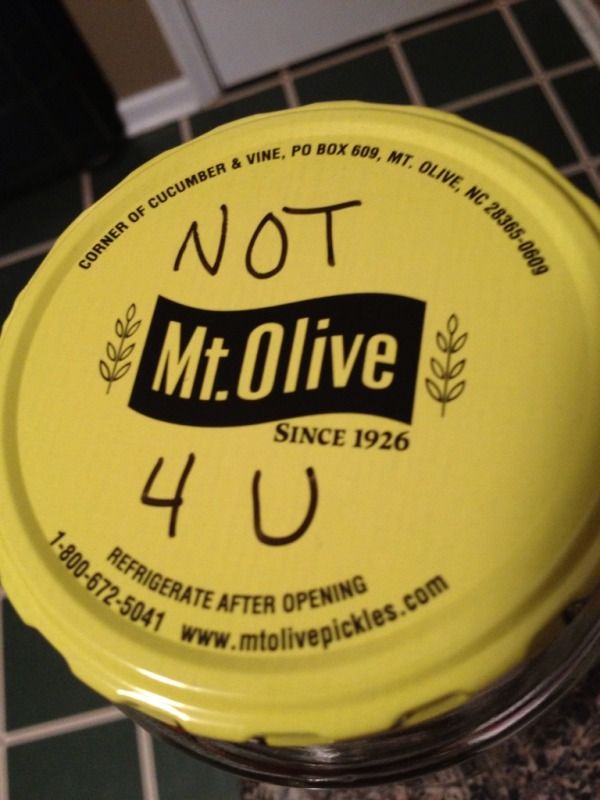 Except when I opened the jar, I got a huge whiff of pickle smell.  Great.  Even though it had been put through the dishwasher several times, it still smelled like pickles.  I washed it out very thoroughly by hand and scrubbed the lid, and I hoped for the best.  It didn't smell like pickles after I washed it, so I had high hopes.  Unfortunately, after my first pumping session, I opened the jar to transfer my output and again was hit in the face with a pickle smell.  But I had no other options.  I put the milk in there anyway, with the intention of just seeing if Cannon would drink it even if it tasted slightly of pickles.  But as the day went on, each time I opened the jar I caught the smell of pickle.  So I just decided that I would take it home and dump it.  Fortunately I was so busy that day I only got around to pumping twice, so I only lost about two bottles' worth of milk.  But man, I hated pouring that liquid gold down the drain.  I worked hard for that!  🙂  But it was my own fault, I guess.  I was the one running around like a chicken with my head cut off that morning.  If I had it to do over, I would have packed things up the night before and slowed down a little bit.  I find that when I try to rush things, I always end up messing something up.
So the next morning I got up a little earlier, took more time getting ready, and resolved to make that day better than the one that preceded it.  And I went ahead and packed up my pump the night before, bottle lids and all.  In a sense, I got my do-over.  Every day is a chance to improve upon the day before.
From Frigidaire:
The Frigidaire Gallery™Dishwasher gets dishes fully cleaned the first time, so there are no dish do-overs. Nearly half of adults admit to re-washing and/or re-drying dishes after the dishwasher cycle has been completed. To prevent dishwasher do-overs, Frigidaire® is stepping in with its new Gallery® Dishwasher featuring the OrbitCleanTM Wash Arm, ensuring dishes are cleaned right the first time.
{I was compensated for this post as a member of Clever Girls Collective. All the opinions expressed here are my own.}
–
Like what you see? Subscribe to my RSS feed. And don't forget to follow me on Twitter and like The House of Burks on Facebook for the latest updates!
–