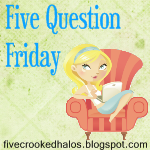 Time for another Five Question Friday.  I can't believe that May is almost over.  I have missed a few weeks of these for sheer lack of time, but hopefully I will be able to keep up with them better.  I love finding new blogs to read through this blog-hop!
5QF is hosted by My Little Life.  Don't forget to check out the blog-hop at the bottom of the post!
1. Are you a napper?
I LOVE a good nap.  Naptime is the highlight of most of my weekends.  Not only do I love the actual nap, but I really enjoy the snuggle time with one or both of my boys.  I don't feel like I get enough sleep during the week even though my kids are usually good sleepers.  I just can't ever get to sleep at a decent hour, and my alarm goes off obscenely early every morning.  So whenever an opportunity to take a nap comes along, I take it. 
2. What was your favorite subject in school? Most hated?
I don't remember much about high school classes, but my favorite class in college was an English class on William Shakespeare and Christopher Marlowe.  The professor was fantastic and I love Marlowe, and I just really enjoyed that class.  After that class I made it a point to take any class Dr. Taylor offered that pertained to my major.  Coming in a close second were my philosophy classes.  Again, I really enjoyed the professor.  He was so cool, and owned the town coffee house/bookstore.  He was just a really cool guy who made us think without belittling us.
All of my most hated classes were math classes.  I hate math.  I was good at it, but I hated it.  I took advanced calculus in high school and then promptly forgot everything by the time I had to take another math class.  Luckily, I only needed two to graduate.  Math, blech.
3. Did you have the something old new borrowed and blue at your wedding? What were they?
I don't think so.  I don't remember, actually.  It was 8 years ago so my recollection is a bit fuzzy.  I think my garter was new and blue. 
4. What one thing are you determined to do this summer?
Lose some weight!  I am still breastfeeding and I can never seem to lose any weight while nursing.  As soon as I stopped nursing Cole, I started losing weight.  Now that Cannon is 8 months old and is eating more solid food, I'm going to try to start incorporating more exercise and a lower calorie diet to try to drop some ell-bees.  I won a Hamilton Beach personal blender last week from Stir & Scribble, and it was delivered today.  I'm looking forward to trying out some healthy and nutritious smoothies!  I'd like to lose at least 20 pounds before Cannon's first birthday in September.  Think I can do it?
5. Ice cream or Popsicles?
Both!  I wouldn't turn down either one.  The wooden popsicle sticks hurt my teeth, so I tend to stick to the Pop-Ice in the little plastic tubes, but sometimes I can stand to eat a popsicle with a wooden stick.  Not often, though.  Just thinking about it makes my teeth hurt.
–
Like what you see? Subscribe to my RSS feed. And don't forget to follow me on Twitter and like The House of Burks on Facebook for the latest updates!
–