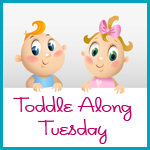 How is it Tuesday again already?  Time for another link-up with Mama G.!  This week's co-host is Tessa at Tales of Two Girls and the theme is photo bloopers.  My kids make the craziest faces, so I have plenty of material.  I'll try to choose only a couple of my favorites.
First up is a recent picture of Cole.  The little girl on the left is the daughter of a friend of mine, and we were at her birthday party at The Little Gym in Smyrna.  Of course we all wanted some cute pics of the kiddos together, so I asked Cole to go give her a hug.  This is the response I got.
My goodness.  How dare I ask him to perform a task so odious as hugging a pretty little girl?  He looks like a Who from Whoville.
 Even as he went in for the hug, he had a bit of that look on his face.  Believe me when I say I nearly died laughing when I saw these outtakes.  We eventually did get a cute picture of the two of them, but I absolutely love these two.
We haven't really caught Cannon in any funny outtakes yet.  I'm sure they're coming, though.  This one is cute.  I was just trying to take pictures of him flailing on the floor one day.  He always likes to put blankets and loveys over his head (what a way to scare your mother, kid).  So as he was laying on the floor playing with his bib, he just put it over his head and I thought it was really cute.
He's like, hey, where did everybody go?  He's just so stinking cute that everything he does is adorable.  To me, at least.  🙂
Head on over to Growing Up Geeky and link up your photo bloopers and outtakes!
–
Like what you see? Subscribe to my RSS feed. And don't forget to follow me on Twitter and like The House of Burks on Facebook for the latest updates!
–