It's time for another Five Question Friday Hosted by Mama M.!  These are a lot of fun and really make you think and remember.  Here are my answers to her five questions!  Head on over and join the link-up.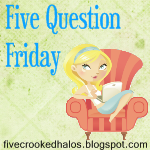 1. If you were free to just hop in the car and drive, where would you go? Or, if you could hop a plane and go anywhere, where?
If I didn't think it would be pure and unadulterated torture to do this with a not quite 3-year old and a 6-month old, I would love to road trip it up to the Pacific Northwest.  I've been as far west as Arizona and I'd really like to get to know that region of our beautiful country.  We are driving to Disney World from our home in Atlanta in May, and I'm very curious to see how such a long trip with TWO kids will go.  We drove to Raleigh when Cole was four months old and it wasn't so bad, but he slept nearly the entire way.  By plane, I think I would like to go to Italy.  Or Australia.  Or Belize.  I don't really know.  There are a lot of places I'd like to fly, but I have a thing about flying over water.  If they could sedate me for the flight, I'd go anywhere in the world.
2. What's your most recently read favorite book?
I finished The Girl With the Dragon Tattoo a few weeks ago and I really liked it.  It took about half the book for me to really get into it, but right at about that halfway point I couldn't put it down.  I read it in iBooks so I would take the iPad everywhere we went and read it in the car, I would read it when I pump, and if I didn't have the iPad with me I read it on my iPhone.  It was a very good book with good twists and turns.  I'm reading The Girl Who Played with Fire now and it seems like it will be a good book as well.  Similarly difficult to get into, but I will see it through since I hear it is even better than the first one.
3. What's your favorite Spring Break memory?
Spring Break 2003.  My best friend's parents owned a condo in Gulf Shores, AL, and it wasn't being rented during our spring break week so we got to use it for free.  For 10 days.  It was AWESOME.  Lots of our friends were down there during that week so we got to party it up with them and then go back to our little quiet relaxing home for the week.  The problems started when people started coming over to our place, and you know college guys get rowdy.  So we made them all go away except for two who just wanted to escape the madness for a couple of days (they were in a hotel room with two beds and fourteen other guys, who wouldn't want to get away from that?).  The funniest part about that week was the day we arrived.  We went to the store for provisions and I realized that I had left my driver's license at my apartment in my car.  I didn't have a debit card so I couldn't even write a check for anything.  My mother had to drive to my apartment, nearly an hour away from where they live, to get into my car and overnight my driver's license to me.  And then she found out that I also used it to buy beer, so she was really mad.  Hee hee.  Sorry, mom.  I lived.
4. What do you put in your child's Easter basket? Or, for those w/o kids, what was put in your childhood basket?
I put just a little bit of chocolate and candy in the plastic eggs, and then I put some fruit in there along with a stuffed animal or a toy.  My parents make an Easter basket for Cole and I assume they will make one for Cannon, and they put a crap ton of candy and chocolate and junk in it.  Most of it ends up either in the garbage or in my belly.
5. Do you get a summer haircut?
No, actually.  I let my hair grow out in the summer.  I can't stand having hair on my neck when it's hot and sweaty outside, so I like to be able to put my hair up in a ponytail or a bun during the summer.  I typically keep my hair long anyway but if I ever do get it cut it is during the fall/winter and I have to have enough time for it to grow out by May so that it can be put up.  It does tend to get pulled by baby hands more when it is long, but I have to be able to put it back and I think I look better with long hair anyway.
–
Like what you see? Subscribe to my RSS feed. And don't forget to follow me on Twitter and like The House of Burks on Facebook for the latest updates!
–