I haven't done a Five Question Friday by Mama M. in awhile, so let's do this week's, shall we? Here are my answers to her five questions!  Head on over and join the link-up.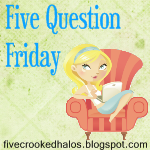 1. Will you run to the store or to pick up a kid looking a mess?
-If I absolutely must, I will.  I don't wear a lot of makeup in the first place, so a dab of blush would usually do if I needed to run out quickly.  But I have been known to throw on a baseball cap and head to the store, unshowered, for an item or two.
2. Do you finish a book if it's boring or you don't like it?
-If I know that it will pick up at some point, I will usually stick with it.  I slogged through the first half of The Girl With the Dragon Tattoo because I heard that about halfway through I wouldn't be able to put it down.  And sure enough, once I got over that boring setting-up-the-story hurdle, I couldn't put it down.  I had it on iBooks so I would read it on my iPhone at every opportunity.  I'm glad I stuck with it because it turned out to be a really good book.  I'm reading The Girl Who Played with Fire right now and I'm just now getting to the good part about halfway through again.
3. Beach or mountain vacations?
-I love both!  We are a quick hour car ride away from the beautiful North Georgia mountains, and we have a particular cabin that we like to stay in at the Coosawatee River Resort, which is just lovely no matter what time of year we visit.  We also love going to the beach, but it is a very long drive for us no matter which way we go:  5 hours to the Atlantic coast and about 7 hours to the Gulf.  But the longer drive there just means we get to stay longer.  I love relaxing in a beach chair, watching my husband build sand castles with our boy.  I hope we get to take the boys to the beach in the fall.  Maybe we will go for our anniversary trip.  We are going to Disney World in May and staying at the Caribbean Beach Resort, so there will be a "beach" there, but it's not the same as dipping your toes in that crystal clear Destin ocean.
4. What thing/event says "winter will end and spring is right around the corner" to you?
-For me it's always been the butt trees blooming.  With that first stinky bloom I see, I know that warm weather and longer days are on their way.  Oh, a butt tree is a Bradford pear tree.  My university's campus was packed with them.  They smell like fish when they bloom, which prompted me to begin calling them butt trees.  The name stuck, and I still call them butt trees to this day.
5. Would you prefer couples or family vacation?
-I go back and forth on this.  As a working mom, I really crave time with my children.  However, as a wife of nearly 8 years, I do realize how important quality time with my husband is.  Unfortunately, we don't live near our parents so a night out every now and then isn't easy to come by.  The good thing about that is that we are a fairly self-contained unit and don't mind spending all of our free time together as a family.  I'm sure if I got a taste of a night to ourselves I would quickly become dependent on them.  🙂  The boys' school does Parents Night Out every other month or so, and we do take advantage of that to go on a date.  Parents Night Out is actually tonight, so I'm looking forward to spending some time with my man.  As far as vacations go, I would say that I prefer a family vacation.  I'm not sure I could enjoy myself fully if I were to be away from my boys for a long period of time.  I worry about them too much.  And right now, since I'm breastfeeding, it's just not feasible to take a couples vacation.  We might revisit the issue in a few years, though.
–
Like what you see? Subscribe to my RSS feed. And don't forget to follow me on Twitter and like The House of Burks on Facebook for the latest updates!
–