We don't have any grandparents near us, as I mentioned on Friday.  I do have a large extended family here in Georgia, but we just haven't really gotten around to lining up any babysitting.  We should probably get on that.
Anyway, every six weeks or so the boys' school does a Parents Night Out.  We usually take advantage of it, using that time to get some things done around the house or go shopping.  Friday night was Parents Night Out.  We had planned on having someone come in to clean our carpets, but they had to reschedule for Saturday so we both found ourselves at home on a Friday night with nothing to do.  So we decided to have ourselves a little date night.  I had been gifted with a generous gift certificate to a nail and spa place from the people that Zac works with, so we decided to split it between the two of us, followed by a trip to our favorite local pizza place and dessert at Rita's.
There was lots of hand-holding.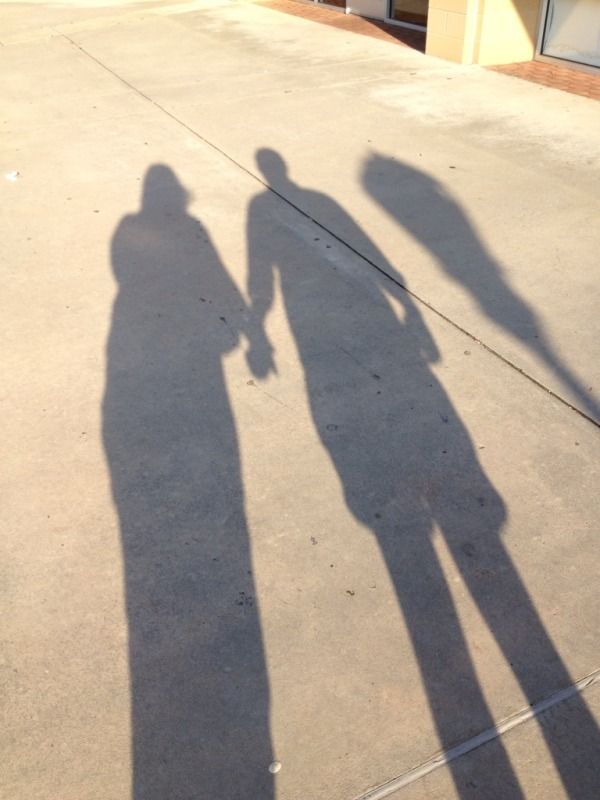 My shadow doesn't do me any favors, by the way.  There was a fantastic hot stone massage for both of us, a picture of which I do not have because we were in our unmentionables.  Zac had never had a massage before, and I thought I was going to have to pry him up off the table.
Then came another first for Zac:  his first pedicure.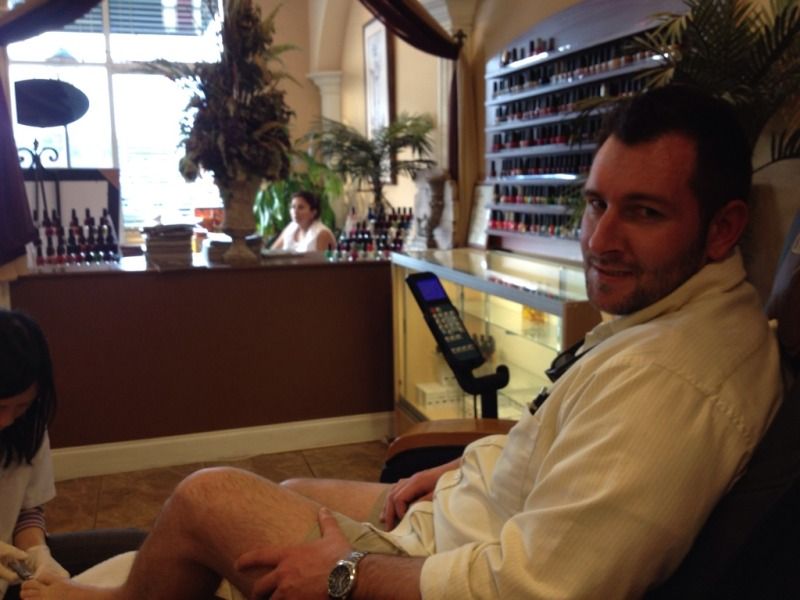 He was in heaven.  One thing about Zac, he is definitely a man who enjoys his creature comforts.  I'm actually surprised that it has taken him this long to get a pedicure.  I think we will now have to make monthly appointments to get our feet taken care of.
Our tootsies having been pampered and our tired weary bodies relaxed, we headed over to Downtown Lawrenceville for dinner on the Square.  I adore the Lawrenceville Square and I wish we lived closer to it.  Unfortunately, that would mean I would be further from work so we just settle for a few trips a month. Zac gets to drive through it every day for work, lucky duck.  It is the cutest little place.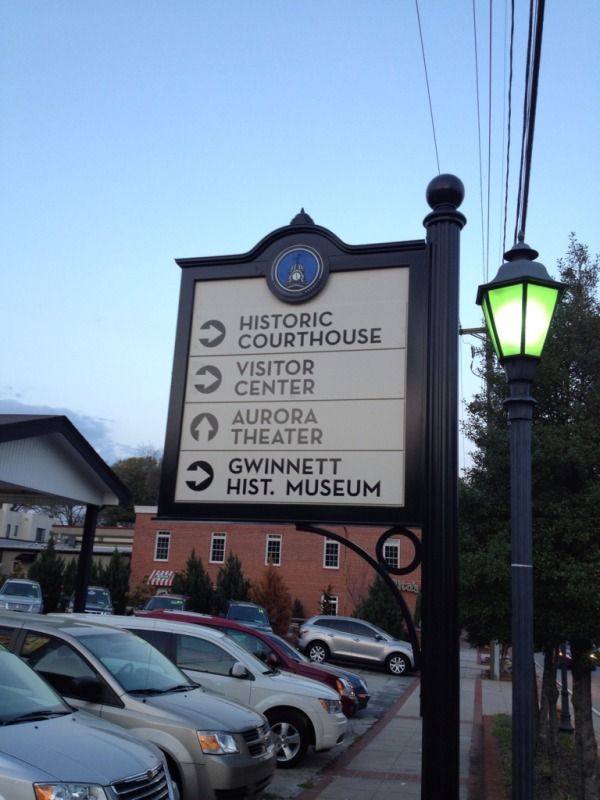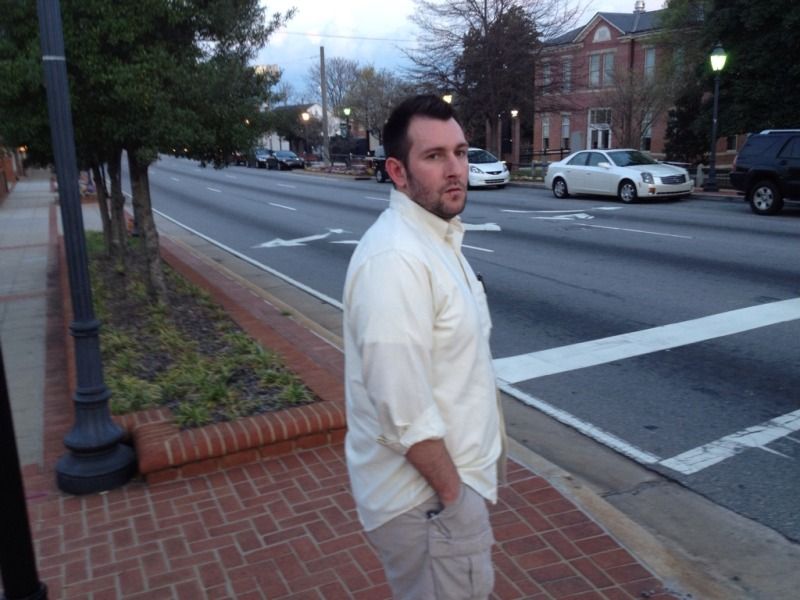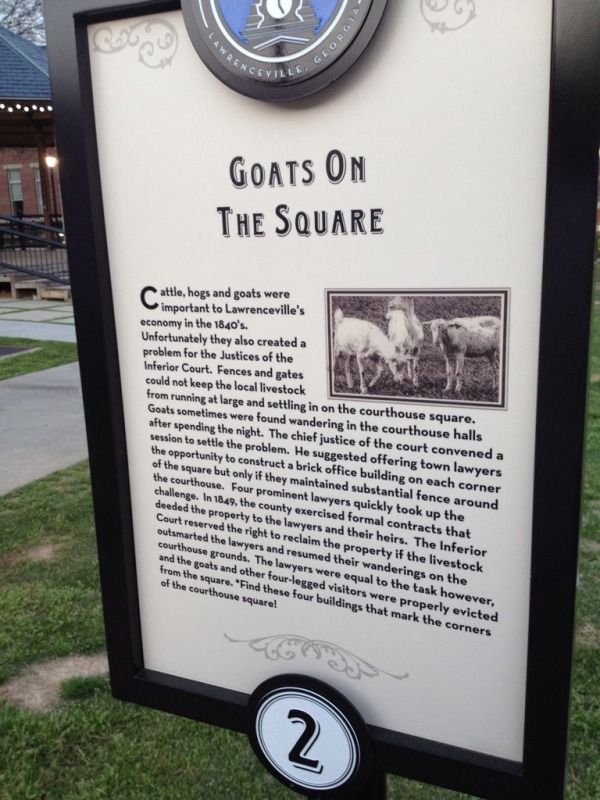 We walked around the Square and headed to Cosmo's Little Italy.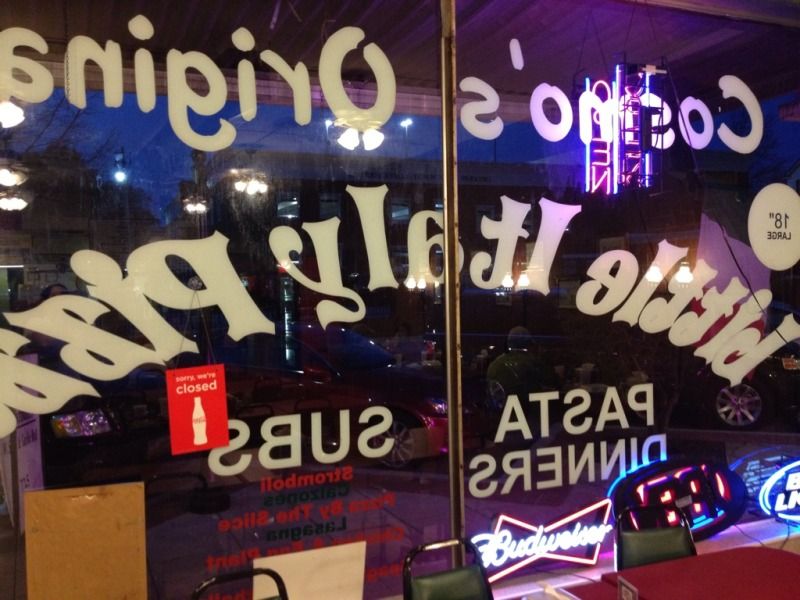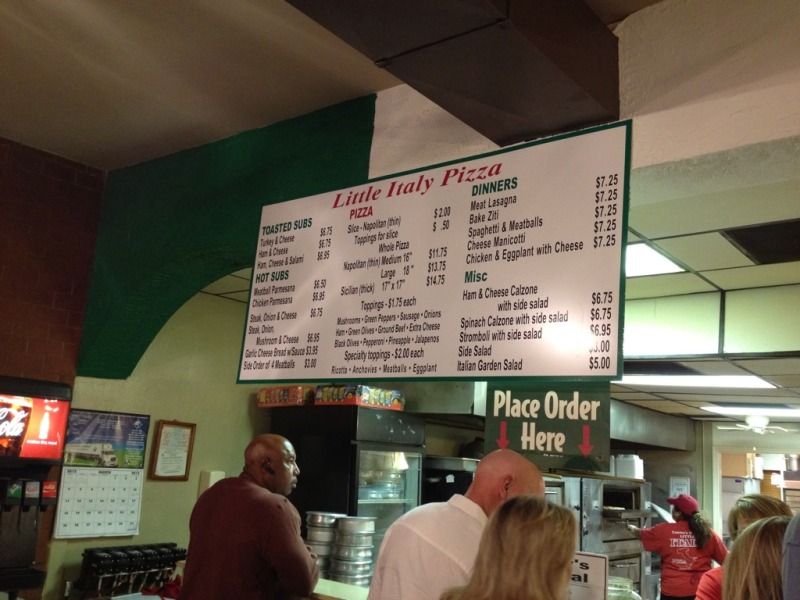 Seriously, this place has some delicious pizza.  I always say I'm going to try something else, but then I get sucked in by that yummy cheesy pizza.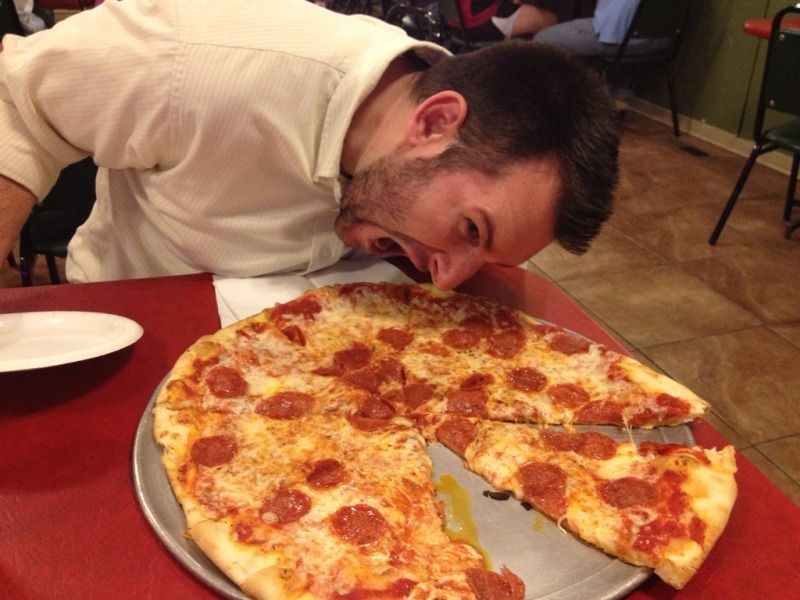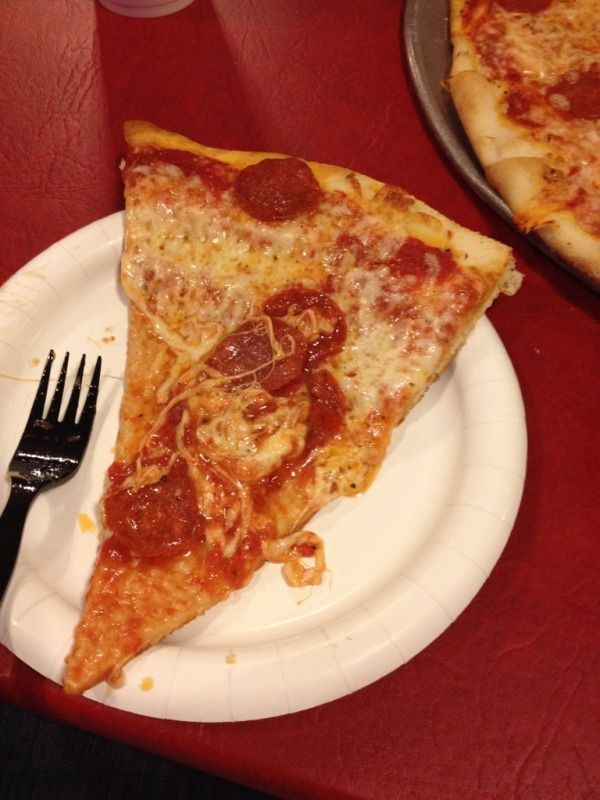 Our bellies were so full of pizza that we didn't even have room for our cupcakes.  Wait, let me back up a bit.  When we got to the Square, we decided to park in the Rita's parking lot so that we would be near the car when we were done with our dessert.  When we pulled up, Rita's was closed!  I was so sad.  I had been looking forward to some delicious frozen custard.  But alas, it was not to be.  On the way to Cosmo's we saw that a new little sweet shop had opened called Sweets on the Square.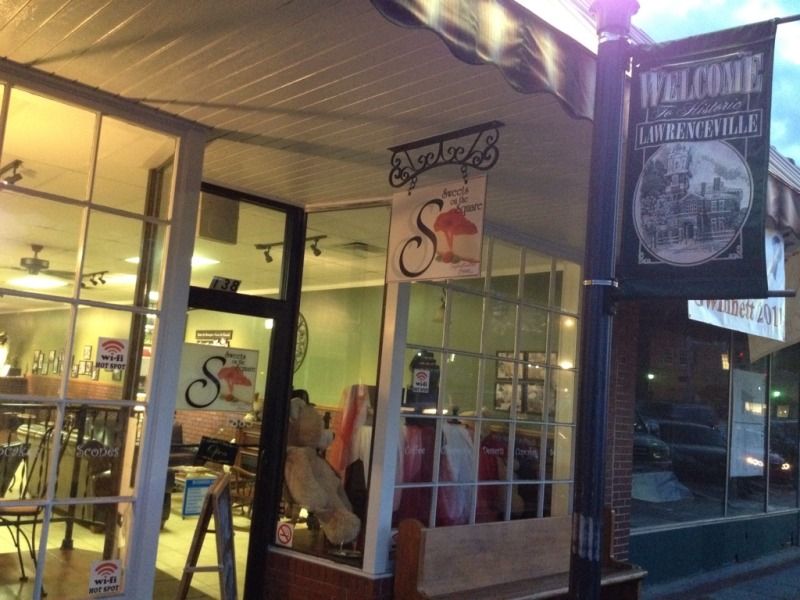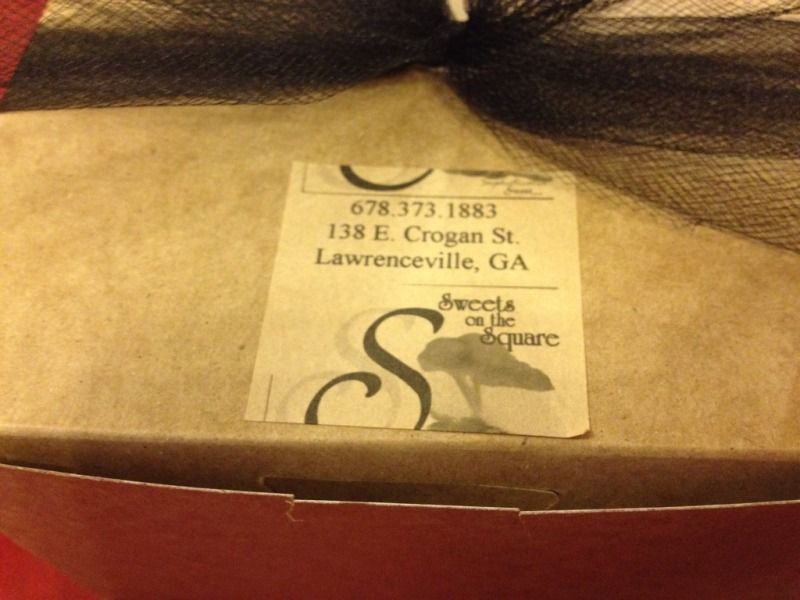 We looked at their hours and saw that they were closing in 10 minutes, so we decided to duck in and go ahead and pick up our dessert.  We got three of their signature square cupcakes.  I got mint chocolate chip, which is my very favorite flavor of anything, And Zac got a chocolate cupcake with vanilla frosting, being the traditionalist that he is.  We also got a peanut butter butterscotch cupcake just for kicks.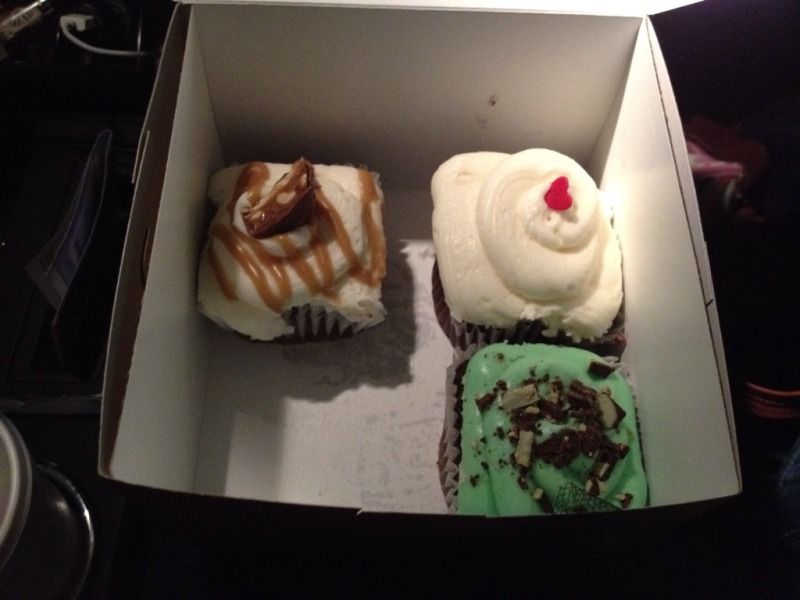 Have mercy.  That frosting was so freaking amazing.  And the peanut butter butterscotch one had butterscotch chips baked into the cake.  Oh my dear heavens.  So delicious.  We will definitely be going back to sample more of their flavors.
Of course, being the ridiculous parents that we are, all we talked about on our kid-free evening was our kids.  We just can't help ourselves.  They are just so sweet.  They could have stayed at PNO until 11pm, but we were on our way there to get them at 9pm.  We hadn't seen them since we dropped them off at school that morning and I was dying to get my hands on them.
Best part of date night is always getting back to these faces.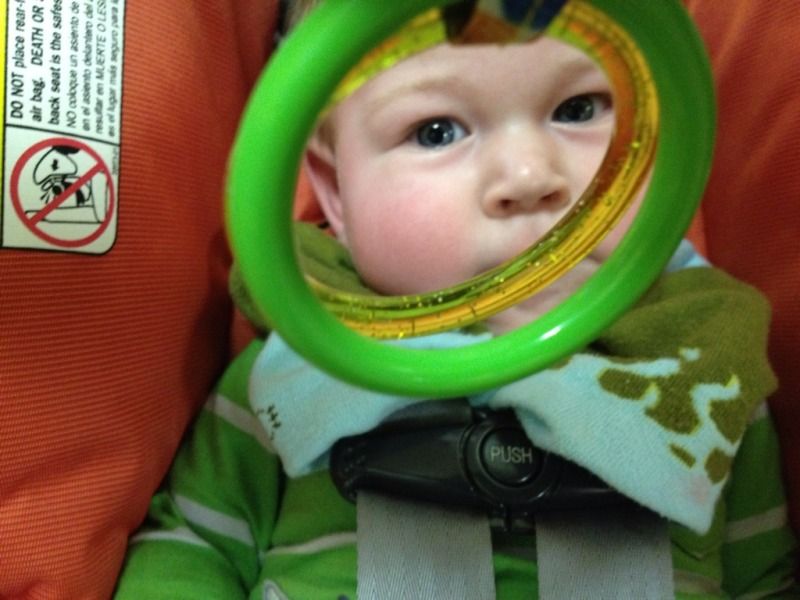 And to top it all off, my frequently sleep-challenged children slept until 8am Saturday morning, with the exception of one little wake-up by Cole around 1:30am.  Zac couldn't get to sleep anyway, so he went in Cole's room and settled him back down.  Saturday morning had us feeling rested and refreshed, and ready to tackle the weekend.
Our date nights aren't frequently that fancy, usually just a child-free dinner is enough for us.  But sometimes we think, why not?  Alone time for us is few and far between, so we take advantage.  How often do you have date nights with your spouse?  What do you like to do sans children?
–
Like what you see? Subscribe to my RSS feed. And don't forget to follow me on Twitter and like The House of Burks on Facebook for the latest updates!
–