I'd like you introduce you to our son, Cannon James.  He was born on September 16, 2011 at 10:40 p.m., via repeat C-section.  He weighed 8 pounds 14 ounces (the same as his big brother Cole), and was 21 1/4 inches long (1/4 inch longer than Cole).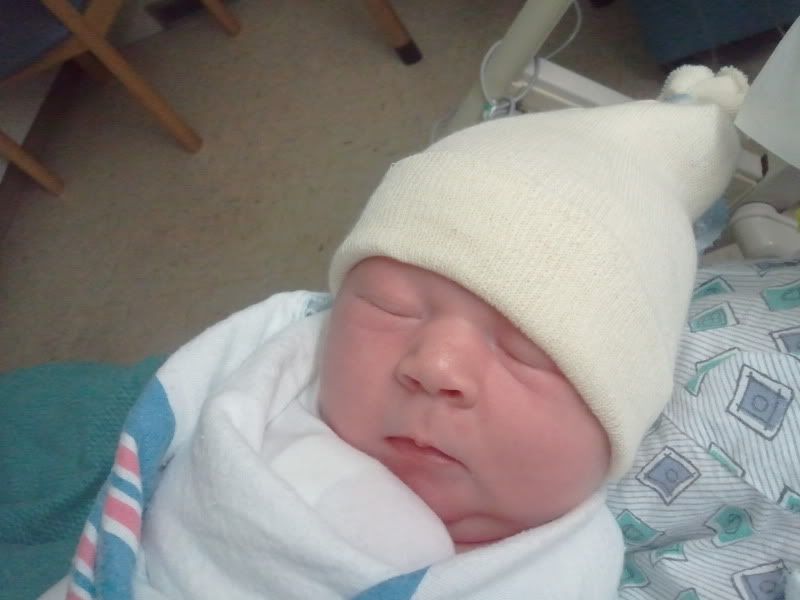 As you can see, he is absolutely beautiful.  Just as handsome as big brother Cole was when he was born.  They actually look remarkably similar when Cannon gets certain expressions on his face.  Cole isn't sure quite what to think about his little brother just yet.  He knows that he is "Baby Brother Cannon James", but I'm not sure that he is associating the baby with my formerly huge belly yet.  Cole came up here yesterday to meet his brother, and he would talk to him and smile, but didn't want to hold or touch him.  He just looked uncomfortable with the idea, so we let it alone.  He'll come around when he's ready.  Perhaps we can get that cute toddler holding baby picture today.  🙂
Daddy has stepped out to the store for a few things , so I think I'll take advantage of the alone time by taking a nap.  The grandmothers will be here with Cole in a bit and I won't get the chance again until this evening.  Have a great Sunday!
–
Like what you see? Subscribe to my RSS feed. And don't forget to follow me on Twitter and like The House of Burks on Facebook for the latest updates!
–