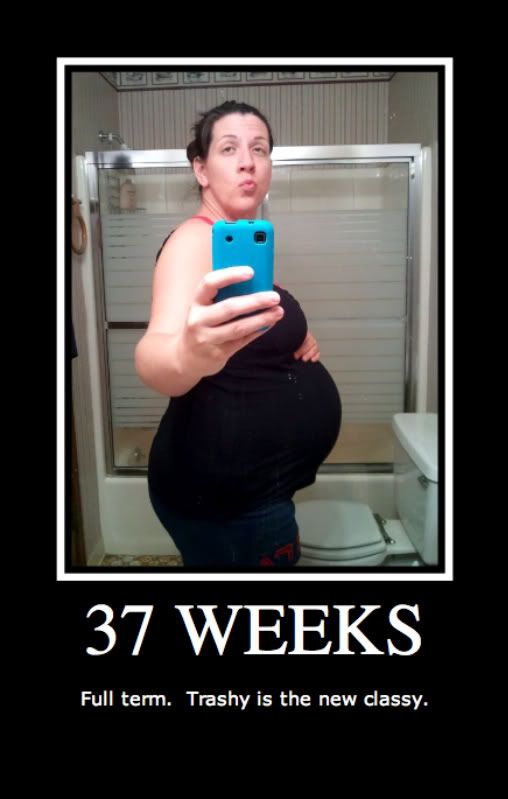 Or, full-term baby!  37 weeks is considered to be full term, meaning that if the baby was born today he would most likely need zero time in the NICU and his lungs are mature enough to function properly outside the womb.  All very exciting stuff!  And forgive the spotty bathroom mirror shot and my car-washin' clothes.  I didn't get a chance to take a picture today and this is the best you get.  I'M 100% REAL, YO.
I had my 37-week appointment this morning.  I didn't gain any weight since last week, which is miraculous considering that we went to Birmingham for a baby shower thrown by the Mister's wonderful sisters and I ate a lot of the yummy food they prepared, plus our standard visit to Milo's on the way out of town.  But I have also been very, very busy and active this week so I guess it made up for the excess calories.  My blood pressure was amazing, as always.  Hey, I brag on anything I can at this point.  Baby's heart rate was great and steady at 150, my Group B strep culture came back negative, and everything was normal with my urine samples.  The only thing that was slightly out of the ordinary was my fundal height.  Ever since they started measuring it, it has been right on track with where I am in the pregnancy.  Even up to last week, when I was told it measured "perfect".  But this week, the doctor told me I was measuring really far ahead at 42 weeks!  Whaaaaat?  How in the world could my fundal height have jumped so much in just a week??  Especially a week in which I didn't gain any weight?  Being that I am going to try to VBAC, this sudden increase in measurement was concerning to me.  I asked her if it could be that he is just in a weird position or something.  She said that could be it, or there could just be extra amniotic fluid if I have been drinking more water than usual (which I have).  We will know more at the growth ultrasound next week, so for now I'm not too concerned.  I don't feel like I look that much bigger in just a week, and again, no weight gain.  Hopefully it's just an error in measurement, or just a funny position he was in.
As I mentioned, the Burks family has been a flurry of activity this past week.  We have been doing things around the house, setting out in the evenings to pick up little whatnots and necessities, and on Saturday we went to Birmingham for a photo session and baby shower (which will get their own post later).  We came back home on Saturday as well, so it was a very long, very busy, very fun day, 1/4 of it spent in the car driving.  🙂  On Sunday we did some more stuff around the house and the yard.  The Mister finished moving Cole's clothes from the nursery to his new room and emptied out the closets, and he hung the new curtains in the nursery.  Now all we need to do is order the bedding.  I know, I'm a slacker.  I cleaned my car out, moved Cole's car seat over to the driver side, and installed the infant car seat on the passenger side.  I did all of this by myself, and if you know me at all you know that I am not particularly mechanically inclined so this was a big accomplishment for me.  :pats self on back:  This evening I hand-washed the car in the driveway.  I have weird nesting spells.
In Cole news, he slept ALL NIGHT in his big boy bed for the first time last night.  He usually wakes up at least once, but the Mister had to go in there and wake him up at 7:15 this morning.  It was glorious.  The Mister is now attempting to get him to sleep.  I hope he is successful, because I'm usually the one who gets him to sleep and lately he has been falling asleep in our bed and the Mister will move him to his bed.  This has to stop.  Hopefully it will be an easy transition for my little guy.  I hope we didn't let our little bad habit continue for too long.  He's never been a great sleeper, so we just kind of went with what worked.  But now it won't work for much longer so it's time to nip it.  Maybe one day before he is 10 he will start putting himself to sleep.
From BabyCenter:
"Your baby is now considered "full term," even though your due date is three weeks away. If you go into labor now, his lungs will likely be mature enough to fully adjust to life outside the womb. (Some babies need a bit more time, though. So if you're planning to have a repeat c-section, for example, your practitioner will schedule it for no earlier than 39 weeks unless there's a medical reason to intervene earlier.)
Your baby weighs 6 1/3 pounds and measures a bit over 19 inches, head to heel (like a stalk of Swiss chard). Many babies have a full head of hair at birth, with locks from 1/2 inch to 1 1/2 inches long. But don't be surprised if your baby's hair isn't the same color as yours. Dark-haired couples are sometimes thrown for a loop when their children come out as blonds or redheads, and fair-haired couples have been surprised by Elvis look-alikes. And then, of course, some babies sport only peach fuzz.
Braxton Hicks contractions may be coming more frequently now and may last longer and be more uncomfortable. You might also notice an increase in vaginal discharge. If you see some "bloody show" (mucus tinged with a tiny amount of blood) in the toilet or in your undies, labor is probably a few days away — or less. (If you have heavier spotting or bleeding, call your caregiver immediately.) Also be sure to ask your caregiver about the results of your Group B strep culture. That way, if the result isn't yet on your chart when you get to the hospital or birth center, you'll be able to give the staff there a timely heads-up if you need antibiotics.
It may be harder than ever to get comfortable enough to sleep well at night. If you can, take it easy through the day — this may be your last chance to do so for quite a while. Keep monitoring your baby's movements, too, and let your caregiver know immediately if you notice a decrease. Though her quarters are getting cozy, she should still be as active as before.
While you're sleeping, you're likely to have some intense dreams. Anxiety both about labor and about becoming a parent can fuel a lot of strange flights of unconscious fancy."
How Far Along? 37 weeks.
Total Weight Gained/Loss? Holding steady at 24 pounds.
Maternity Clothes?  Yep.
Sleep? Okay.
Best Moment of the Week?  Seeing family and friends at our lovely baby shower.  I have the greatest sisters-in-law in the entire world.
Movement? Yep.

Food Craving?  Today I got hit with a craving for chicken and dressing from Cafe on Main, a little restaurant in Trussville, where we used to live.  Too bad  we won't be back in Birmingham until Thanksgiving.  Maybe I can convince someone to bring me some…
Food aversions? Whatever has previously made me vomit.

Morning sickness? Nope.

Symptoms?  Contractions when I walk around too much or do too much around the house.  Terrible complexion.  Same old.
Gender?  Boy boy boy.
Labor Signs?  The sporadic contractions, some pressure down below.
Belly Button?  Basically flat.
What I miss?  Eating a full meal without feeling miserable.
What I'm looking forward to?  Hopefully going into labor on my own sometime in the next two weeks.
Milestones?   Full term!  Getting to be pregnant another week.
–
Like what you see? Subscribe to my RSS feed. And don't forget to follow me on Twitter and like The House of Burks on Facebook for the latest updates!
–