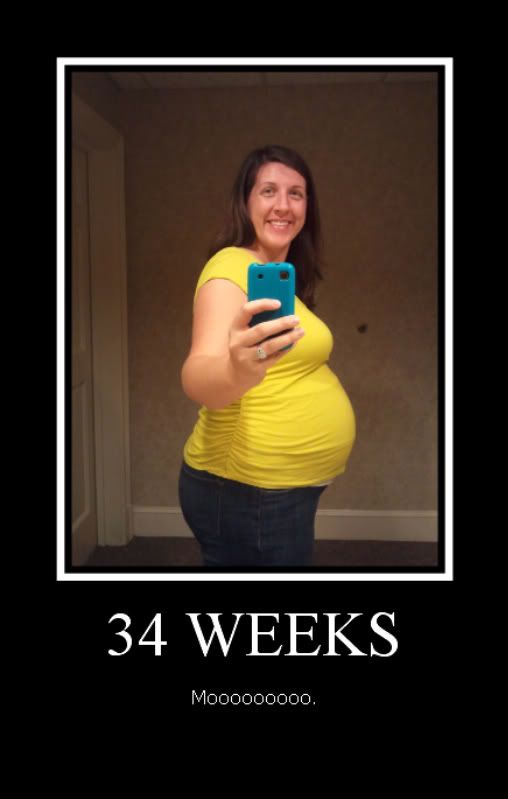 So this week has been better than last week.  Although not so good that I was able to get a blog post up in a timely fashion.  But oh well.
I don't really have much to add this week.  The Mister and I have both been really busy at work and at home in the evenings.  There is so much to do and clean.  The plus side is that the Mister's back is feeling better after a few cracks and stretches at the chiropractor, so he is back to his semi-normal self.  I'm just plugging along, feeling huge and hot.  I've been very tired lately, but I've been getting to bed a little later and tossing and turning a bit more trying to get comfortable.
Little Brother is getting bigger every day.  It is really weirding me out to think that I could ostensibly go into labor at any time.  I mean, 34 weeks is pretty far along in a pregnancy.  They wouldn't try to stop labor if it started at this point.  I might get a steroid shot to help mature his lungs, but right now if the baby's a-comin' the baby's a-comin'.  And honestly, I'm actually looking forward to my first internal exam at my 36-week appointment.  I'm actually hoping that I will have dilated at least a fingertip.  That way I will have some sort of idea if things are actually going to get started on their own any time soon.  I've worked out a plan with my coworkers to begin after the long Labor Day (haha) weekend.  This plan will include daily walks to the Colony Square food court or Starbucks, walking the stairs at random intervals throughout the day, and bouncing on an exercise ball instead of sitting in an office chair.  Home plans include evening primrose oil, more walking, heavy cleaning, copious amounts of pineapple, and doing what got me in this situation in the first place.
From BabyCenter:
"Your baby now weighs about 4 3/4 pounds (like your average cantaloupe) and is almost 18 inches long. His fat layers — which will help regulate his body temperature once he's born — are filling him out, making her rounder. His skin is also smoother than ever. His central nervous system is maturing and his lungs are continuing to mature as well. If you've been nervous about preterm labor, you'll be happy to know that babies born between 34 and 37 weeks who have no other health problems generally do fine. They may need a short stay in the neonatal nursery and may have a few short-term health issues, but in the long run, they usually do as well as full-term babies.
By this week, fatigue has probably set in again, though maybe not with the same coma-like intensity of your first trimester. Your tiredness is perfectly understandable, given the physical strain you're under and the restless nights of frequent pee breaks and tossing and turning, while trying to get comfortable. Now's the time to slow down and save up your energy for labor day (and beyond). If you've been sitting or lying down for a long time, don't jump up too quickly. Blood can pool in your feet and legs, causing a temporary drop in your blood pressure when you get up that can make you feel dizzy.
If you notice itchy red bumps or welts on your belly and possibly your thighs and buttocks as well, you may have a condition called pruritic urticarial papules and plaques of pregnancy (PUPPP for short). Up to one percent of pregnant women develop PUPPP, which is harmless but can be quite uncomfortable. See your practitioner so she can make sure it's not a more serious problem, provide treatment to make you more comfortable, and refer you to a dermatologist if necessary. Also be sure to call her if you feel intense itchiness all over your body, even if you don't have a rash. It could signal a liver problem."
How Far Along? 34 weeks.  How did I get here so fast?
Total Weight Gained/Loss? Down a pound from my 32-week visit.  So official total is 20 pounds.
Maternity Clothes?  Absolutely.
Sleep? Yawn.
Best Moment of the Week? Totally getting hit on in front of my building yesterday when I was walking somewhere to get lunch.  Still got it.
Movement? Plentiful and painful.

Food Craving?  Milk.
Food aversions? Whatever has previously made me vomit.

Morning sickness? Nope.

Symptoms?  Sleeeeeepy.
Gender?  Sweet baby boy.
Labor Signs? None, and I'd like to make it to 38 weeks without any labor symptoms.
Belly Button?  Flat and starting to poke out a little bit on the top.
What I miss?  Sleeping.
What I'm looking forward to?  My mom is visiting this weekend, so hopefully we will be able to get a lot done around the house with her help.
Milestones?   Getting to be pregnant another week.
–
Like what you see? Subscribe to my RSS feed. And don't forget to follow me on Twitter and like The House of Burks on Facebook for the latest updates!
–