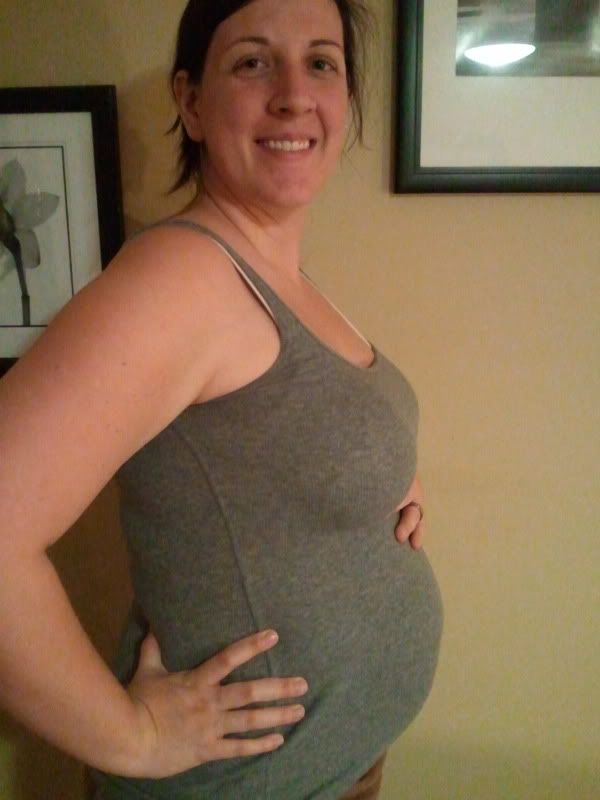 So, there's the first official camera phone picture post.  My head is cut off and the lighting is absolutely horrible, but it gets the job done.  I was already in my jammies at that point, so forgive my haggard appearance.  The belly is coming along quite nicely, though.  I found a comparison shot from my last pregnancy at 17 weeks.  Not only is my belly much bigger, but so is my chest (much to the delight of my Mister).  I'm a bit heavier in general this time around, so I think I'm holding up pretty well.  I'm not so bad off that I'm embarrassed to post pictures, so that's a step in the right direction.
I actually really love my pregnancy body and love to show it off.  I wear shirts that accentuate my bump every day and never try to hide it.  I'm not scared of tight shirts, flowy dresses, or even bathing suits during pregnancy.  Anything that highlights this baby belly is great to me!  I think that growing a human being from scratch is such an amazing thing, and I am just in awe that my body can do this (after a little help the first time around).  I love my expanding belly because I know there is a miracle growing inside.  I commented on a friend's Facebook post the other day about how the year-long process to get pregnant the first time around has given me a different perspective on pregnancy, especially with Baby #2 being such a surprise.  After 2008, I had given up on ever having a surprise pregnancy and just assumed that every baby was going to involve some sort of medical protocol.  I think going through that process has made me personally more appreciative than I might have been had it come easily for me.  I know how difficult it can be and I've been there, so the fact that the Mister and I were able to conceive this baby by chance is just amazing to me.  I am so grateful every day for both of my babies and can't wait to meet this one in September.
I have been feeling really fantastic the past couple of weeks!  If it weren't for feeling the little squirmy wormy in my stomach every day, I would not even feel pregnant at all.  I am sleeping good and am not so tired during the day, and the Mister makes sure that I am able to catch a nap on the weekends if I need one, and for that I am truly thankful.  I can run around with CJ, do household chores when I feel like it (which is rarely, and isn't really different from non-pregnant Rachel), and be the weekend warrior that I normally am.  This past weekend was a big one for us.  We ordered CJ's new big boy furniture!  I am so excited about it.  We were able to purchase it from the same gentleman who sold us our nursery furniture, and he called me last week to let me know that the particular brand we were looking at had gone on sale.  The store we buy from also gives a discount if you pay by cash or check, so we grabbed the checkbook on Saturday and headed over to Georgia Baby and Kids.  I could spend hours in there looking at all of the beautiful furniture.  You really cannot beat their prices, and the furniture is top quality.  The set we got ended up costing us right around $1,600 after the sale, which saved us about $300.  Not too shabby.  I can't remember if I posted a picture on here, so here's another one.
We got the bed, bookcase sideboard, storage drawers underneath, and the dresser.  I am thinking I might want to order a tall chest in the future for when we move to a house with larger secondary bedrooms, but that is for another day.  The Mister was able to find a lovely cedar chest, so we are going to stain it to match the furniture and CJ can use it as a toybox.  His room is small so that is probably all that will fit in there, but we measured it out and he should have room to play.  The bedding we are using will likely be the green madras and dinosaur sheets from PBK.
CJ is very into dinosaurs right now, and the madras bedding is versatile enough to last him for several years so we can just change the sheets as he changes his interests (as children often do).  I think I'm going to look for a dinosaur decal to put on his wall.  That would be cute.
Alrighty, on to Baby Burks #2.  From BabyCenter:
"Your baby's skeleton is changing from soft cartilage to bone, and the umbilical cord — her lifeline to the placenta — is growing stronger and thicker. Your baby weighs 5 ounces now (about as much as a turnip), and she's around 5 inches long from head to bottom. She can move her joints, and her sweat glands are starting to develop.
Starting to feel a bit off balance? As your belly grows, your center of gravity changes, so you may begin to occasionally feel a little unsteady on your feet. Try to avoid situations with a high risk of falling. Wear low-heeled shoes to reduce your risk of taking a tumble; trauma to your abdomen could be dangerous for you and your baby. You'll also want to be sure to buckle up when you're in a car — keep the lap portion of the seat belt under your belly, drawn snugly across your hips, and also use the shoulder harness, which should fit snugly between your breasts.
You may also notice your eyes becoming drier. Using over-the-counter lubricating drops may help. If your contact lenses become uncomfortable, try wearing them for shorter stretches of time. If you still have discomfort, switch to glasses until after you give birth."
I haven't felt any more off balance than I do normally.  That is something I will watch out for.  One of the activities on BabyCenter for this week is to start a baby name list.  I am pretty sure we already have a girl name on lock, And I have a boy name that I would like to use but the Mister still needs some convincing.  Considering he's brought nothing to the table by way of family boy names, we'd better get cracking on nailing a few down since we will find out the sex of Baby #2 in a mere NINE DAYS.  I am so excited to see the little one again for its anatomy scan.  Boy or girl, as long as it is healthy and growing properly we will both be thrilled.  Everyone still thinks it is a girl, and I am about 70/30 in favor of girl.  But a sweet little baby brother would be heaven. 

And now for something completely different.  And by different I mean the same.
How Far Along? 17 weeks.
Total Weight Gained/Loss? Up 5 pounds from pre-pregnancy as far as I know.

Maternity Clothes? Maternity shirts and jeans, and regular work pants still.  Bella Bands are my friend.
Sleep? Pretty good lately.
Best Moment of the Week? Hmm, I've had a pretty great week.  I guess buying CJ's furniture and starting to think about redoing the nursery.  Oh, and this is not pertaining to me, but the Mister's cousin Monica's twin babies were able to come home from the hospital this week!  That is a pretty great moment, no matter who you are.
Movement? Daily.

Food Craving? Just normal food.  No real specific cravings.
Food aversions? Whatever has previously made me vomit.

Morning sickness? None, and I think it's gone for good.

Symptoms? A few twinges of RLP when I move too fast, sore boobies, slight acne, growing belly.

Gender? Can't tell yet, but I'm leaning toward girl.

Labor Signs? None, and hopefully none until September!
Belly Button? Normal, but last night I had a dream that it was flat already.  Yikes!

What I miss? Regular jeans, not having bumps all over my face.
What I'm looking forward to? Our next doctor appointment on April 22, and finding out if CJ is getting a brother or a sister!

Milestones? Every day I don't freak out is a milestone.  Getting to be pregnant another week.
–
Like what you see? Subscribe to my RSS feed. And don't forget to follow me on Twitter and like The House of Burks on Facebook for the latest updates!
–