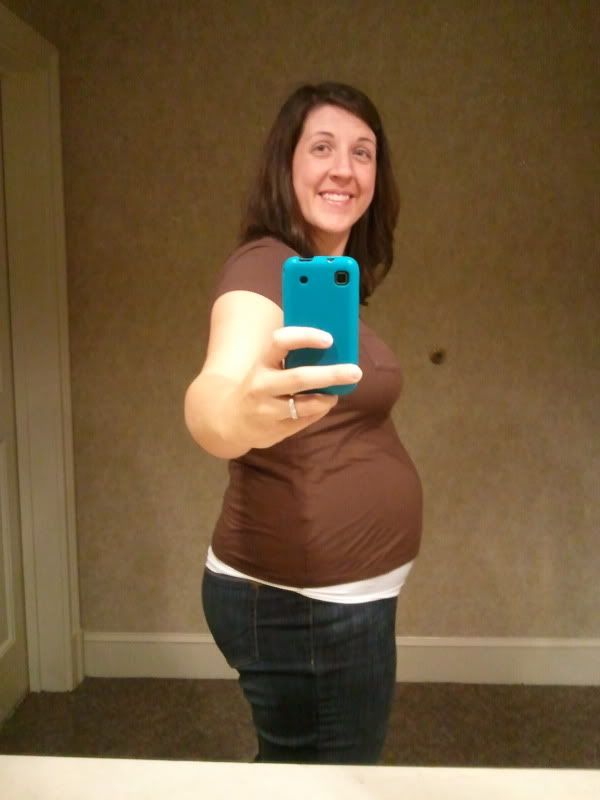 Okay, I'm just going to start taking the weekly photos with my cell phone, so that I can upload them immediately to Photobucket and post them, because we never seem to get the pictures off the card in the big camera.  So expect lower quality photos from henceforth.  This photo is from Wednesday of last week.
So, we are now well into the second trimester, and I must say, it is my favorite trimester.  I'm starting to look pregnant and not just chunky, my energy has returned as well as my appetite, and I haven't been sick in several weeks.  It's nice to be able to eat what I need to be eating instead of just what I think will stay down.  I put back on the 7-ish pounds I had lost over the first trimester by my 12-week appointment, so it was like starting from day one as far as weight gain.  I've done pretty well so far, what with not really watching what I've been eating as far as amounts and getting absolutely no exercise, so I should be perfectly able to keep my weight gain under 20 pounds (hopefully more around 15) for this pregnancy with a little more forethought and effort.  Helloooo, veggies and treadmill!
I had my 16-week appointment yesterday (Wednesday, since it is now Thursday and not Monday when I should have posted the update).  Everything went well.  My blood pressure is great, weight gain is normal, and the baby had a nice strong heartbeat.  It did give me quite a scare, though.  My doctor tried for about two minutes to find the heartbeat, and the whole time I held my breath in a state of pre-panic, thinking my absolute worst nightmare was about to come true.  The only thing that kept me from freaking out was the fact that I could hear and feel the baby moving around in there, so I knew it was just hiding.  She put more gel on the doppler wand, and I told her that I think my placenta might be anterior and that the few times I have found the baby's heartbeat it has been really low and on the left side, and right behind my iliac artery.  So she went a bit lower and to the left, found my heartbeat from my artery, and poked around and FINALLY found the baby's heartbeat.  I think I melted into a puddle internally.  We couldn't get a heart rate because my heartbeat kept interfering, but the baby sounded great.  The heartbeat was very strong and quick.  I know that if she wouldn't have been able to find the heartbeat I would have been whisked right back for an ultrasound, but I am glad that the baby decided to stop hiding so Mommy could relax a little bit.  Before I got to see the doctor she was called over to the hospital (dumb ol' women having babies, don't they know I'm on a schedule?!?!), so I went ahead and did my blood draw with my favorite vampire.  She doesn't hurt or bruise me at all like the other vampire.  The worst part about yesterday's blood draw was ripping the bandaid off afterward.  All in all, great short appointment.  My next appointment is scheduled for April 22, which will be when we find out whether CJ will have a baby brother or a baby sister!  I will be nearly 19 weeks, so it is about a week earlier than normal, but I typically measured a week or two ahead with CJ and we are going home for Easter that weekend and I'd love to be able to tell our parents in person what we are having instead of doing it over the phone.  Bor-ing!  I have a cute gender reveal planned out, and I will be sure to post some pictures.
And now Baby Burks #2′s development, from Baby Center:
"Get ready for a growth spurt. In the next few weeks, your baby will double his weight and add inches to his length. Right now, he's about the size of an avocado: 4 1/2 inches long (head to rump) and 3 1/2 ounces. His legs are much more developed, his head is more erect than it has been, and his eyes have moved closer to the front of his head. His ears are close to their final position, too. The patterning of his scalp has begun, though his locks aren't recognizable yet. He's even started growing toenails. And there's a lot happening inside as well. For example, his heart is now pumping about 25 quarts of blood each day, and this amount will continue to increase as your baby continues to develop.
The top of your uterus is about halfway between your pubic bone and your navel, and the round ligaments that support it are thickening and stretching as it grows. You're probably feeling a whole lot better as you settle into pregnancy, too. Less nausea, fewer mood swings, and "glowing" skin contribute to an overall sense of well-being.
Soon you'll experience one of the most wonderful moments of pregnancy — feeling your baby move. While some women notice "quickening" as early as 16 weeks, many don't feel their baby move until about 18 weeks or more. (And if this is your first baby, don't be too impatient — you may not be aware of your baby's movements until 20 weeks or so.) The earliest movements may feel like little flutters, gas bubbles, or even like popcorn popping. Over the following weeks they'll grow stronger and you'll be able to feel them much more frequently."
So, all great stuff!  Baby is doing great and so is Momma.  We are going to purchase CJ's big boy furniture this weekend so we can start getting his room ready.  I am 99% sure we are going with the PBK dinosaur sheets and brown/green madras bedding.  The Mister was able to get a beautiful cedar chest that we will stain to match the furniture and will serve as CJ's toy box.  I'm excited to do another room for him, and I know that come April 22 I will want to start thinking about getting the nursery done for #2!
And now, the survey.
How Far Along? 16 weeks.
Total Weight Gained/Loss? Five pounds gained from my pre-pregnancy weight, all of it in my belly apparently.

Maternity Clothes? I wore regular work pants today, but I think I'm going to have to move into maternity work pants from now on.  I've been wearing maternity jeans exclusively for about a week or so.
Sleep? Fairly okay.  I still have to get up at least twice to use the bathroom, but go back to sleep easily.
Best Moment of the Week? Hearing the heartbeat at my appointment, another great non-eventful appointment.
Movement? Feeling more and more every day.

Food Craving? Nothing, really.  I wanted cheese dip last night so we went out for Mexican.
Food aversions? Whatever has previously made me vomit.

Morning sickness? None for about 6 weeks now.

Symptoms? A few twinges of RLP when I move too fast, sore boobies, slight acne, growing belly.

Gender? Can't tell yet, but I'm leaning toward girl.

Labor Signs? None, and hopefully none for at least 22 more weeks!
Belly Button? Normal.

What I miss? Regular jeans, sleeping the entire night.
What I'm looking forward to? Our next doctor appointment on April 22, and finding out if CJ is getting a brother or a sister!

Milestones? Every day I don't freak out is a milestone, because I spent my last pregnancy in a low state of panic.
–
Like what you see? Subscribe to my RSS feed. And don't forget to follow me on Twitter and like The House of Burks on Facebook for the latest updates!
–