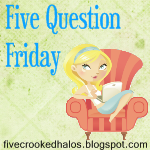 1. Is there something you've always wanted to try but just can't muster up the courage to actually do yet?
Hmm.  I think I'd like to get back into rock climbing seriously.  I dabbled when I was younger and more in shape, but I'd like to do the whole gear and ropes and climbing trips thing.  But I'd have to lose a ton of weight to feel comfortable enough to even attempt it.  So I guess I should tackle that first.
2. If you had $100 handed to you in cash without your significant other knowing about it, what would you spend it on?
Honestly?  I'd probably hang onto it.  I have a really hard time spending money on myself.  Id rather have money in my pocket than a shiny new bauble.  If I HAD to spend it, I would probably buy a new pair of shoes.
3. What was your favorite piece of playground equipment as a child?
I loved the swings.  They are still my favorite!  Whenever we take CJ to the park, I will swing beside him on the big swings while the Mister pushes him in the kid swing.  I still like to swing really high and jump out of them too.
4. Do you prefer a sweet or hearty breakfast?
I like both!  Gimme pancakes with syrup or waffles with powdered sugar and a side of bacon and eggs with hash browns covered in ketchup.  I'm a big fan of breakfast, in case you haven't noticed.
5. Are you a Neat Freak or a Messy Bessy?
Total Messy Bessy.  I'm not dirty, but I am content to live amongst clutter.  It's a daily struggle to keep my desk at work presentable, and at least part of every weekend is spent cleaning up the week's clutter in my house.  The only thing I am weird about is having a clean kitchen and a clean bathroom.  I can't stand dishes in the sink or ring-around-the-tub.  And don't even get me started on toilets.  They.  Must.  SPARKLE.
That's it!  Head over to Mama M.'s place and link up your answers.  And everyone have a wonderful Friday!
–
Like what you see? Subscribe to my RSS feed. And don't forget to follow me on Twitter and like The House of Burks on Facebook for the latest updates!
–