I found a great blog written by Mama M., and she does a thing called Five Question Friday.  Here are my answers to her five questions!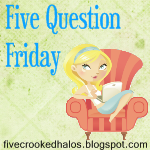 1. What was the first car you owned?
-The first car I drove was my parents' 1986 Dodge Aries station wagon.  It was white, and huge, and I loved it.  It looked just like this:
I don't know why I loved that car so much.  Maybe because it was symbolic of my first taste of freedom.  I could go where I wanted when I wanted (within reason, upon my parents' approval).  That car was the key to my independence.  I didn't have to worry about being late for school anymore or worry about coordinating rides home after volleyball or tennis practice.  I drove my friends around, blasting Nirvana and Soundgarden and Pearl Jam, and I just felt so cool. In my station wagon.
2. What song are you embarrassed to know the lyrics to?
-I have been blessed/cursed with a photographic memory, so I retain lyrics to songs that I hear one time.  It's very unfortunate, because I find myself singing along to the most awful songs imaginable.  The worst one I can think of right now is I Can Make Your Bedrock. Call me Mr. Flintstone.
3. Have you ever had stitches?
-Only on my uterus.  Staples on my stomach incision from my C-section.
4. What was your first job?
-I worked in the office of a car auction filling out title paperwork.  Sometimes when they were short on drivers I got to drive the cars through the auction.  That was fun.
5. Who is your favorite Sesame Street character?
-I am a big Sesame Street fan.  My favorite character would have to be Oscar the Grouch.  I don't know why, but I've always loved him.
What are your answers?
–
Like what you see? Subscribe to my RSS feed. And don't forget to follow me on Twitter and like The House of Burks on Facebook for the latest updates!
–