I really think the Five Question Friday is fun, so I will try to keep it up. Be sure to check out Mama M.!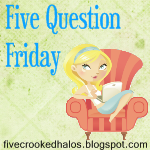 1. If you could, would you go back to high school?
-Hmmm.  I'd say no.  I enjoyed high school for the most part, and I got along with everybody, but I was sort of awkward and chubby and never in the popular crowd.  I really blossomed in college and had way more fun, so if I had to go back in time I would probably choose college over high school.
2. If a genie appeared and granted you two wishes, what would they be? (And, no saying "more wishes".)
-I'd wish to invent the cure for cancer.  And I'd like to hit Powerball.
3. What kids show do you secretly like?
-All of them?  I'm a big fan of kids shows.  I love Sesame Street, always have.  And a recent favorite is Kipper the Dog.  Great intro music for that one.
4. What is your beverage of choice?
-I can't get going in the morning without my beloved Coke Zero.  If calories weren't a concern, I'd drink Cherry Coke until I exploded.  I also like Starbucks' double chocolatey chip blended cremes.  Alcoholic: I love a good amaretto sour or Bailey's on the rocks.
5. What is something that you would change about yourself (or are working to change in yourself)?
-I would like to be more organized and tidy.  I'm a messy person content to live in clutter, and I am jealous of my more anal-retentive peers and their houses that are company-ready at all times.  I'm trying to be better, but darn it, it's hard.  I also would like to change my metabolism.  Currently I maintain the metabolism of a medium-sized boulder.  I wish I could speed it up so I wouldn't have to work so hard to lose weight.
–
Like what you see? Subscribe to my RSS feed. And don't forget to follow me on Twitter and like The House of Burks on Facebook for the latest updates!
–